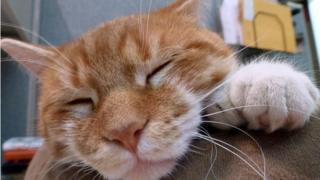 AP
An unusual cat in America is helping an animal rescue centre raise money to move to a new building.
Daniel, an orange-and-white tabby, has two extra toes on each paw. All together, he has 26 toes.
Milwaukee Animal Rescue Center, faced with having its rent doubled next year, is asking for donations of $26 (£17) - a dollar for each toe.
Out of a total £55,139 raised so far, £32,062 has come from these toe related donations.
The shelter's staff think they'll soon have enough to find it a new home.
Normal cats have 18 toes - five on each of their front two paws and four in the back paws. Daniel's total of 26 toes leaves him two short of the world record, which is held by a cat in Ontario, Canada.