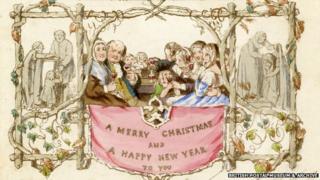 Other
The world's first Christmas card was sent in 1843, by a British man, Henry Cole.
He loved writing letters, but to write to all his friends would've taken him weeks, so he decided to have 1,000 cards printed and posted these instead.
Henry was a civil servant by day but he was also a clever businessman and the ones he didn't use, he sold for a profit.
He charged 6 pence, which put them out of the reach of ordinary people.
But they became more and more popular and now we send cards to our friends and family every year.
There are very few of Henry's original cards around now, but you can still see one on display at the British Postal Museum and Archive in London.