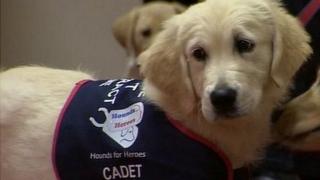 Soldiers that have been injured through wars in Iraq and Afghanistan are being given a helping paw.
The charity Hounds for Heroes is training new six puppies to help servicemen and women with everyday tasks.
The new recruits have two years to perfect essential skills that'll make all the difference to their new owners.
They'll learn how to open doors, use cash machines and even assist with the shopping.
The Labrador puppies live with 'puppy parents' who foster them whilst they're young, before they move on to live with a soldier permanently.
The charity was set up by Allen Parton who was injured whilst serving in the Gulf War in 1991.
Allen's assistance dog Endal helped him recover from a serious head injury and he wants other servicemen to benefit from these special dogs.