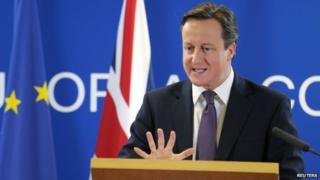 Reuters
British Prime Minister David Cameron has rejected a deal to try to sort out Europe's money problems.
Leaders from the 27 European Union countries spent nearly 10 hours overnight in Brussels trying to agree a plan.
They're hoping to avoid another big cash crisis, like when Greece ran out of money.
But Mr Cameron refused to sign, saying the plan wouldn't be good for the UK.
He wasn't happy because France and Germany wanted everyone to agree to new taxes on the business banks do.
Hungary also hasn't signed and the Czech Republic and Sweden said they would go back and discuss the plans before agreeing.
But the UK is the only country to say it definitely won't agree to the proposals.
There are fears the UK will now be left out of this new "Euro club" and important decisions will start to be made without us but the government reckons this won't happen.