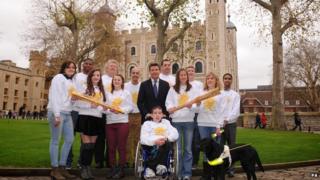 PA
Nearly 7,000 people have found out that they'll be helping to carry the Olympic torch next summer.
People from across the UK sent in nominations for who they thought should be picked.
The organisers decided to choose people who've undertaken big challenges and helped their local community.
The Olympic Torch relay will take 70 days to complete and 8,000 people will get the chance to carry the flame.
The Torch will travel across Britain and end up in London for the opening ceremony.
George Stocker is one of the lucky few who's been selected. He's 12 and has raised loads of money for cancer charities since being diagnosed with a brain tumour a few years ago.
Getty Images
A few people, like Elodie Lafosse, were told the good news by the boy band, The Wanted. Elodie is 17 and she teaches sick children how to express themselves through dance.
She said "The Olympic Games are so exciting and now I'm one step closer to being part of it."
It's not just school kids who've been chosen - people of any age could be nominated.
Moira Starkey is 84 and will be carrying the flame. She said "It's a great honour" and has asked Wayne Rooney to sponsor her when takes part.
The torchbearers will find out which section of the relay they'll be running next year.