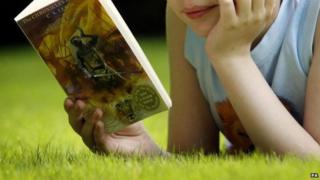 PA
One in three kids in the UK don't own a book - that's what a new survey has just found out.
It's got people worried that this will affect how well kids can read and how well they do in class. It found that children who do have books are more likely to do better at school.
It got us thinking: do you enjoy reading books? How many books do you reckon you own?
Or do find it boring and prefer reading on your computer, tablet or other device? Or perhaps you prefer reading a magazine or comic?
Here's what you had to say...
Your comments:
"I have read books by lots of different authors like Roald Dahl, Humphrey Carpenter and loads more. I love adventurous stories."
Amy, 13, Radcliffe, Nottinghamshire
"I love to read because it can take you somewhere else and you can forget everything else and any troubles you might have."
Holly, 9, Scotland
"Books are brilliant! I love the Dark Magician Trilogy, and the Inheritance Trilogy! I can't believe that 1/3 of people in Great Britain do not own a book. Reading on screens hurts my eyes after a while!"
Zephyre, 12, Lincolnshire, England
"I think that more children should be encouraged to read books because it can help your speech and understanding of words. I love reading books, but I don't have a favourite one because I like them all!"
Katie, 12, Derbyshire, England
"Everyone should own at least one book because they're not just for entertainment, they can also help with subjects such as English, Science and Maths."
Lauren, 10, Cheshire, England
"I really love books and often read at least 6 or more a day! My favourites at the moment are Narnia, George's Marvellous Medicine and Matilda!"
Martha, 7, Essex, England
"I like reading because it gets your imagination going in the morning ready for school. And it's really fun! It's also good as it can help you find out whether you need to go to the opticians or not!"
Martha, 8, Bristol, England
"I love reading because every book unleashes a new adventure! At the moment I'm reading The Midnight Library and I'm loving it! You can also learn a lot from books as they introduce you to new words!"
Alice, 10, Tyneside, England
"Reading is my LIFE! You can experience the characters' emotions and feelings. Every new word you read is a new word you learn. How can ANYONE not like reading!?"
Georgina, 11, Blackpool, England
"I love reading books so much! I even finished a book that was 194 pages long. My favourite book collections are by Lemony Snicket."
Matthew, 10, Ireland
"I love books! They allow for more imagination. I find books much better than movies too. I've read more than 100 books in my life. Parents start reading with their children at a young age to develop them and give them a good start in school. My mum did exactly this, and it's helped me a lot!"
Rebekah, 10, Somerset, England
"I think books are totally worth it! Not only do they teach kids to get off video games, but they also teach kids to use their imagination without having to look at moving pictures!"
Josie, 11, Devon, England
"I LOVE reading! I own over 200 books and have read every one! I can finish a 1000 page book in two days! My favourite is The Noughts and Crosses series by Malorie Blackman! I prefer reading to doing anything else!"
Ella, 13, Sheffield, England
"I think books are an important part of life because without them it would be a lot harder to learn how to read. Plus, they are great fun to get involved with!"
Isaac, 13, Midlands, England
"Books are the best! I read them all the time! I go the school library every day at lunch!"
James, 12, Coventry, England
"A life without books would be worse than a life without sweets or chocolate!"
Finn, 11, London, England
"I have too many books! I especially enjoy reading the classics like Little Women and What Katy Did at school. I literally have a library in my house and have run out of room to put books in my room. I love reading!"
Megan, 10, Manchester, England
"I love reading. Every book I read is like living a second life."
Elliot, 11, Surrey, England
"I don't read often, but I used to love reading and I own loads of books! But I don't like to now - I find it pretty lame!"
Bekah, 10, Sheffield, England
"I DON'T enjoy books as they're not very fun to read. They don't have many jokes and my games console is always in the next room."
Adam, 11, Blackburn, England
"I honestly don't think that I could live without reading. In my whole house there are 370 books! We have even more in storage!"
Cecilia, 11, London, England
"I love books! My mum's a librarian so I get plenty of books, but my favourite book is Diary of a Wimpy Kid. I can't live without books!"
Caitlin, 9, Nottinghamshire, England
"Most people at my school have books but I think it is bad for those who don't - the main key of learning is through books!"
David, 11, Suffolk, England
"I think reading is wonderful! I would rather read than watch the films as you can create and set the scene yourself! You can also make the characters look how you want. I have two bookshelves full of books that I read at least two times each!"
Bryony, 12, Hampshire, England
"I don't really have many books and I'll do anything to get out of reading. I've never read a whole book in my life!"
Lottie, 12, Hertfordshire, England
"I think reading is quite boring because it takes ages and ages to finish the book! However, when I have a Jacqueline Wilson book in my hand, I always need to carry on reading because they're so exciting!"
Autumn, 10, Oxfordshire, England
"My favourite books are the Where's Wally? books!"
Asim, 12, Manchester, England
"I enjoy reading as it lets you go into a peaceful state of mind, you don't have to worry about anything when you have a good book!"
Taya, 11, Bedford, England
"I have loads of books, but I never read them more than once!"
Jamie, 13, Northampton, England
"No! I hate reading! In fact, I don't own a single book. None of my friends read because we think it's better to play outside so can we keep fit."
Caroline, 11, Bath, England
"I hate reading books, unless I get really interested in them like Twilight etc. I only don't read them because I can just find it all on the internet and television. I'd rather spend a few hours watching a film."
Emily, 13, England
"I love reading books! I don't how many books I have read but I think no life is complete without books!"
Quinn, 11, South London, England
"I love reading! How can people not like reading? It's one of the most fun things you can do! I have four bookshelves full of books!"
Louise, 12, Kildare, Rep of Ireland
"I prefer reading on my PC because I think reading books is really boring and it takes more than two days to read it until you finish it!"
Claudia, 14, Jakarta, Indonesia
"I love reading! It really calms me down and cheers me up! Books allow you to enter another world!"
Catherine, 10, London, England
"I have a lot of books. I love to read!"
Alice, 14, Glasgow, Scotland
"I LOVE reading books, especially the Twilight Saga by Stephenie Meyer! I've got over 40 books in my bedroom and I read them over and over again. I can honestly say that whenever I read a new book I learn new and different words, which is amazing!"
Erin, 12, Dundee, Scotland