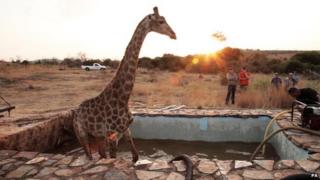 PA
Talk about head over heels, but this is quite the giraffe gaffe!
Firefighters were called to the set of ITV1 drama Wild at Heart in South Africa after Lucy, one of the show's giraffes, fell into a swimming pool.
Crew worked into the night to dig a trench so she could get out safely.
Wild at Heart star Stephen Tompkinson said: "It was such a bizarre sight - as soon I walked round the corner all I could see was this great neck sticking out of the pool."
No one's quite sure how it happened, but it's thought she was trying to drink from the pool when she took a tumble.
The nine-year-old giraffe must've been thirsty, as she managed to squeeze through a fence which usually prevents her from getting near the pool.
The giraffe emerged without any injuries from the rescue, which happened in September during the show's filming.
Lucy was 14 months pregnant at the time, so it was important they got her out safely and kept her calm.