Two bomb attacks in Afghanistan have left at least 58 people dead.
It looks like the blasts were targeting a religious group called Shia Muslims, who have been celebrating the most holy day in their calender - Ashura.
A bomb went off at a shrine packed full of worshippers in the capital city Kabul at about midday on Tuesday.
A second explosion hit the northern city of Mazar-i-Sharif at around the same time.
The news has shocked the country. Though there's lots of violence there, this is the first attack in recent history that looks like it happened because of religious differences.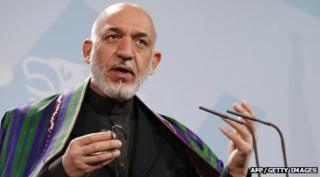 AFP
Afghan President Hamid Karzai said it was: "The first time that, on such an important religious day in Afghanistan, terrorism of that horrible nature is taking place".
Nobody's yet claimed they were behind the bombs.
Muslims are split into two main branches - Shias and Sunnis - and there are tensions between the two. Most Muslims in Afghanistan are Sunnis.
On Monday, leaders from around the world gathered in Germany to discuss what will happen to Afghanistan when international troops pull out in 2014.