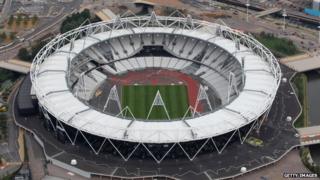 Getty Images
The money for the Olympic and Paralympic opening and closing ceremonies has been doubled to more than £80 million.
Prime Minister David Cameron has agreed to put in an extra £41 million after seeing the plans.
But it's sparked a row over who pays for what - because the cash boost has come from public money.
Funding for the ceremonies usually comes from the London 2012 organisers' private budget.
Sports minister Hugh Robertson said it was to "drive the maximum benefit for the economy and for tourism".
He added: "It's about the impression that people take away of this country."
Oscar-winning director Danny Boyle is in charge of the Olympic opening ceremony, which will be on 27 July 2012.
Government watchdogs have warned there's a risk that spending on the Olympics will go over budget - currently at £9.3 billion of public money.
On Monday, the government said an extra £271 million was needed for security guards.