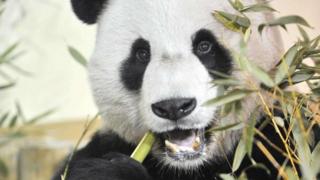 Edinburgh Zoo's new arrivals
Giant pandas Tian Tian and Yang Guang are settling in "very well" into their new home at Edinburgh Zoo, but are feeling "jet-lagged"!
The zoo's Gary Wilson said: "They are in a strange sequence of sleeping for two hours and eating for two hours, a bit like most humans when they fly half way around the world."
The duo arrived in Scotland on Sunday after flying 5,000 miles from China.
They're on loan for at least 10 years, and it's hoped the pair will breed.