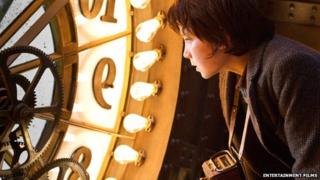 Other
Hugo is a 3D action adventure set in 1930s Paris. But don't worry - you don't have to speak French to understand it! Here's our presenter, Joe, with what he thought of it.
It's been made by one of Hollywood's biggest directors - Martin Scorsese. He was inspired to adapt the popular children's book The Invention Of Hugo Cabret for the big screen after reading it to his 11-year-old daughter Francesca.
When's it out?
It's in cinemas right now.
The plot
An orphaned little boy called Hugo Cabret lives in the walls of a train station in 1930s Paris. His job is to oil and maintain the station's clocks.
But to Hugo, his more important task is to repair a mysterious robot that his dad left him when he died. The robot holds the key to a mystery that goes way back to the invention of cinema.
The stars
Hugo is played by someone relatively unknown in the cinema world called Asa Butterfield but there are loads of big British stars in the film.
These include Sir Christopher Lee (from Lord of the Rings and Star Wars), Ben Kingsley (from Prince of Persia) and also the comedian Sacha Baron Cohen who plays a train station inspector and is very funny.
Hit or miss?
Hugo is really nice to look at with some amazing 3D effects. There are also some really funny moments quite often involving dogs making a nuisance of themselves!
Overall though, it's not very exciting because there isn't much action. The bits of action that we do see are great with big chases through the busy train station. These bits are fun and get your heart racing!
But in the last half of the film, we are given an history lesson about how movies started and it goes on a bit too long and doesn't really have a wow-factor.
So with a lack of action and laughs, this is a movie only really made for kids who are very interested in the history of film.
NR rating: 2 out of 5