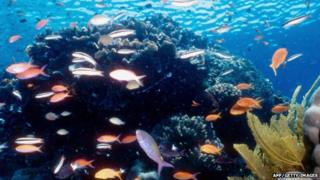 AFP
Scientists have frozen particles from The Great Barrier Reef, so they can be used to regrow coral in the future.
Rising temperatures in the Pacific Ocean are decaying much of the coral in the Reef, off Australia's north-east coast.
So a team of experts have taken more than 8 billion coral cells and kept them at a temperature of -196C.
The plan is they can be used to replace coral that is damaged - and protect the Reef.
"We will never have as much innate diversity on the Reef as we do right now," explained Dr Rebecca Spindler from Taronga Zoo.
"That's why it's incredibly important that we start saving the Reef right now."