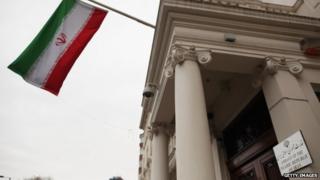 Getty Images
Britain has closed the Iranian embassy in London and wants all of its diplomats to leave the country by 2pm on Friday.
It comes after the British embassy in Iran was attacked by protestors.
The protesters were angry about the way that Britain has dealt with Iran over its nuclear programme.
Iran says its nuclear programme is purely peaceful the British government believes that Iran is developing nuclear weapons for other reasons.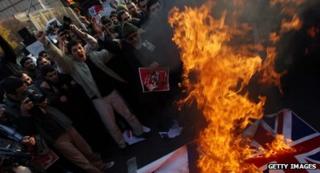 Getty Images
On Tuesday, hundreds of protestors climbed up the walls of the British embassy in Iran's capital city Tehran - and set fire to British flags.
An embassy is an official office that represents a country but is based in the capital of another. They're important because foreign tourists can visit them if they need help or advice when they are away from home.
Diplomats are people who work for the embassy and appear on behalf of their country to promote friendly relations abroad.
UK diplomatic staff in Iran's capital Tehran have already been evacuated and the embassy has been closed over safety concerns.
Britain's Foreign Secretary, William Hague has said relations between the UK and Iran are now at their lowest level.
Iranian officials have described the attacks on the British embassy as "unacceptable behaviour by a small number of protesters".