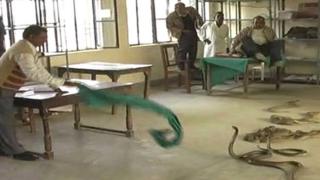 Other
An angry snake charmer in India has let loose loads of his own snakes in a government office, sparking chaos and panic.
Mr Hakkul dumped the snakes, including a number of cobras, at the office in protest.
He was angry because they wouldn't let him have a plot of land for his snakes.
Many of the frightened officials ran out of the office, while others climbed on top of tables.
Mr Hakkul is a snake expert and is usually the person called whenever one is spotted - he's even saved lives with his knowledge.
The good news is that no-one was bitten or injured but the snakes are yet to be caught.