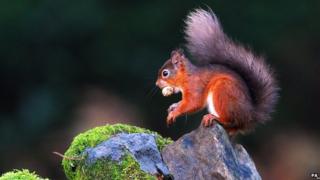 PA
A project to help protect red squirrels in north-east England has been given nearly a quarter of a million pounds.
Red squirrels are under threat from their grey cousins, because they carry a deadly virus.
The Heritage Lottery Fund grant will help fund a four-year project run by the Northumberland Wildlife Trust.
Local schools will get to go on field trips and learn about how to record and keep track of squirrel activity in the area.
The cash will also go towards guided walks and talks to educate the community.
It's hoped the project will get people working together to try and protect the species.
Red squirrels arrived in England from Europe across a land bridge after the last Ice Age, around 10,000 years ago.