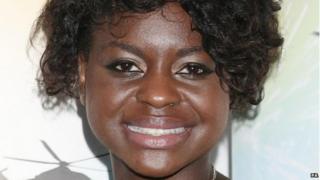 PA
After a long battle Gamu Nhengu, a former X Factor contestant, has been told she can stay in the UK after all.
Gamu and her family have been fighting to live in Britain since August 2010 when her mum was told she could not have her visa renewed.
Gamu lives in Scotland with her mum and two brothers after moving from Zimbabwe in Africa, several years ago.
The family have been arguing with the government who want them to leave because of problems with their visa.
Today the government lost its appeal and Gamu's family will be allowed to carry on living in Britain.
Gamu hit the headlines when she entered X Factor in 2010. She was one of the early favourites to win but didn't make it to the live shows.
The family's lawyer has said they all hope to get on with their lives now and put it behind them.