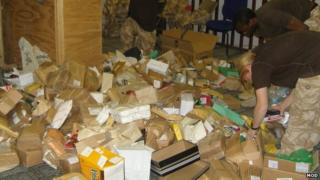 Other
The Army's post service for British troops in Afghanistan is being overwhelmed by the amount of presents the public are sending them.
The service just can't cope with the numbers, especially over Christmas.
Army chiefs say they are very grateful for people's generosity but have asked the public not to send parcels to soldiers they don't know personally.
It can mean that parcels from the soldiers' friends and family might not make it to them in time for Christmas.
The people in charge say that if people would like to do something to help soldiers over Christmas they can send donations to charities.
Charities like uk4u Thanks! use public donations to send presents on Christmas Day to members of the armed forces serving overseas.