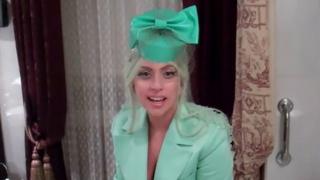 Other
Lady Gaga has surprised a fan by recording a video message to support his anti-bullying campaign at school.
Jacques St Pierre, 17, has been asking pupils at his school in Toronto, Canada, to make pledges against bullying.
In the clip, Gaga tells Jacques how proud she is of him: "There should be more little monsters like you."
She said: "It's important that we spread tolerance and equality for all students."
Gaga fan Jacques was bullied when he was at primary school - students called him "gay" because he liked being in school plays.
He wrote to Lady Gaga to ask her to support his campaign at the Etobicoke School of the Arts.
The teenager said about the video: "I watched it and I started crying. I'm a huge fan. It's kind of embarrassing because I love her so much. I couldn't believe it."
Lady Gaga wants to make bullying a hate crime in America.