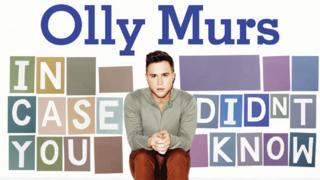 Other
You might have thought that with Olly's busy schedule presenting The Xtra Factor, his new album might suffer but that's certainly not the case.
His latest album In Case You Didn't Know is packed with energy and catchy beats. Second time around Olly has gotten a lot more involved in the songs and has helped to write almost all of them.
Olly wanted this album to sound completely different to his first one and has gone back to the classic-soul sounds of his first X Factor audition in 2009.
When's it out?
It's out now!
The hits
Heart Skips A Beat has already proved to be a massive hit going straight in at number one in October. The song is a great first track for the album and will still leave you skipping down the street.
The rest of the album has the same kind of feel as Olly does what he does best and makes you smile!
On My Cloud has a bit of an edge to it and will get you ready for the weekend. The last track I Need You Now is a slow song and a real change of pace. It sounds great and it's Olly's personal favourite on the album.
The misses
The song In Case You Didn't Know might not be for everyone. It's the sequel song to Please Don't Let Me Go which was a big hit on his first album. Unfortunately we feel it doesn't have the same star quality - but see what you think.
Chart-topper or bargain bin?
By the end of this album you can't help but feel like having a quick dance around your bedroom. Olly is definitely still a cheeky chappy and this album will remind you why won over so many on The X Factor. In case you didn't know, Olly Murs is back!
Newsround rating: 3 out of 5