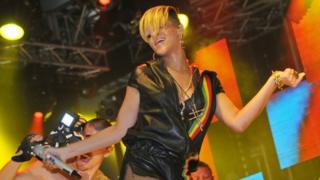 Rihanna has topped both the single and album charts this weekend despite heavy competition.
Her sixth album Talk That Talk stormed into the charts and went straight in at number one.
To top it off her single We Found Love also remained at the top after six weeks in the spot.
She saw off competition from some of the X Factor stars including Olly Murs and One Direction.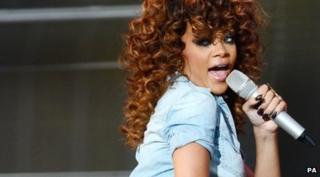 PA
This latest success is record breaking. She's the first female artist to top both charts, at the same time, twice in one year.
Back in January her album Loud and single What's My Name also took the number one spots.
And here in the UK it seems we just can't get enough of her! Rihanna is the only female artist to have a number one hit in the UK charts for five years in a row.
She's now one of the top female artists in the industry after selling 20 million albums in total.
Cowell's stars shine on
X Factor stars also did well this weekend.
One Direction came in just behind Rihanna - their new album Up All Night went straight in at number two.
And Olly Murs took the number two spot in the singles charts with his hit Dance With Me Tonight.
Meanwhile last year's runner up Rebecca Ferguson has released her first single.
Nothing's Real But Love entered the charts at number 10.