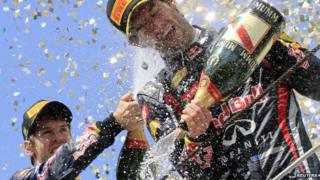 Reuters
Red Bull's Mark Webber won the final race of the F1 season in Brazil.
His team-mate Sebastian Vettel came second with Jenson Button coming third.
Lewis Hamilton had to retire from the race with a gearbox failure.
The victory was Mark Webber's first of the season.
Sebastian Vettel who was crowned the world champion earlier in the season led the race from the start but ran into gearbox problems.
He let Webber past and concentrated on ensuring he got to the finish in second place.
Vettel has dominated throughout the season, taking 11 wins and a record 15 pole positions from 19 races.