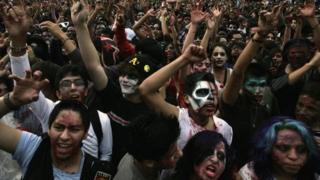 Zombies take over Mexico City
The streets of Mexico City have been taken over by zombies. But don't worry it was all in aid of a world record.
Nearly ten thousand people splattered themselves in fake blood as they took part in the largest ever zombie walk.
The parade of the living dead beat the previous world record held by the USA.
Zombie walks have grown in popularity worldwide in recent years.
The craze for dressing up as the "living dead" has been fuelled by movies, television, video games and books.
We think the Newsround office should hold its own zombie parade. You should see the state of some people first thing in the morning.