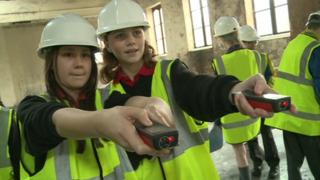 Transforming an old school
A group of school kids in Burnley are getting the opportunity to help decide what an old school should be turned into.
The local people don't want to knock it down because the buildings been in the community for years and has loads of history.
When buildings are looked after and transformed into something else its called regeneration.
Old buildings like castles and palaces are obvious choices when it comes to choosing which buildings should be saved.
But it isn't only historical buildings that are being protected.
Stanley Dock is an area in Liverpool that's just been given loads of money by the government to turn it into shops, hotels and homes.
Joe's been to Burnley and Liverpool to find out more.