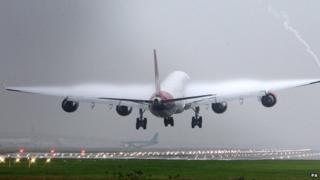 PA
Passengers at Heathrow Airport might face 12-hour delays on Wednesday, says the man in charge of the airport.
Immigration officials - who check passports - have said they will go on strike that day because the government wants to change their pensions.
A strike is when people stop working to protest against something they think is unfair.
Airport staff are among over two million people in Britain going on strike that day, including teachers.
They say pension changes mean they'll be poorer when they retire. But the government says it's fair to ask workers to pay a bit more for their future.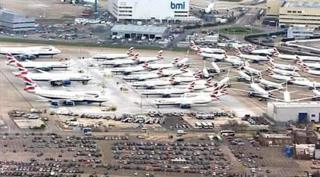 The man in charge of Heathrow has written to the airlines whose planes fly there. He said there was real danger of "gridlock".
That could mean passengers who arrive on a flight might have to wait 12 hours before they can get out of the airport.
To make things easier, international airlines have been asked to carry fewer passengers.
Some airlines are also allowing passengers to change their flights to different days.
Heathrow deals with more international passengers than any other airport. Nearly 100 flights are due to arrive there before 9am on the day of the strike.