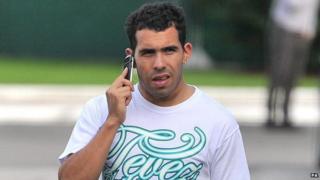 PA
The Tevez saga has taken another turn after his advisors started talking to AC Milan about his future.
Manchester City don't want to let Tevez leave on loan - they want to see him leave in a permanent deal.
In September he was found guilty of five different offences.
City manager Roberto Mancini said Tevez refused to come off the substitutes' bench in a Champions League fixture against Bayern Munich. Tevez himself insisted it was a misunderstanding.
But last week Mancini repeated his view that the striker wouldn't play for the club again.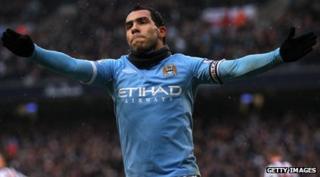 Getty Images
Tevez failed to report for training this month during the international break and was then photographed returning to Argentina.
The former Manchester United striker asked for a move away from the Premier League last December, saying he wanted to be closer to his family who live in Argentina.
Italy teams Inter Milan and Juventus are also said to be keen to have Tevez but advisor met AC Milan officials on Thursday.
If he joins AC Milan he would be reunited with Brazilian star Robinho, who also used to play for City.
Tevez has scored 44 goals in 63 league starts for Manchester City and has another nine goals in cup competitions.