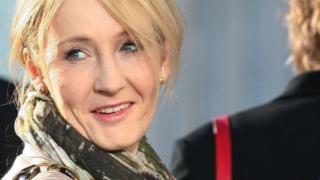 Potter author accuses newspapers
Celebrities and members of the public have been giving evidence at an inquiry into newspaper journalists' behaviour.
They say that some newspapers have behaved really badly, ruining lives by trying to get a juicy story.
Harry Potter author JK Rowling spoke out on Thursday, saying she and her family felt threatened by journalists prying into their private lives.
She spoke of "the twist in the stomach when you wonder: 'what do they want and what do they think they've got?'.
"It's threatening to have people watching you."
She told the inquiry about several times when papers tried to take pictures of her children without her permission.
She said that journalists had tried to contact her by planting notes in her daughter's schoolbag.
"I can only say that I felt such a sense of invasion that my daughter's bag... it's very difficult to say how angry I felt," she said.
Other celebrities like the actors Hugh Grant, Sienna Miller and the comedian Steve Coogan have all been giving evidence at the inquiry this week.
But members of the public have been affected too.
The parents of Milly Dowler, the 13-year-old girl who was murdered back in 2002, told the inquiry that a reporter hacked into Milly's mobile phone, listening to her voicemail messages, to get information for a story.
And Kate and Gerry McCann, the parents of Madeleine McCann, the 3-year-old who disappeared in Portugal in 2007, said that some papers told lies about them.
They also told of how a paper got hold of Kate's diary and printed it without her permission.