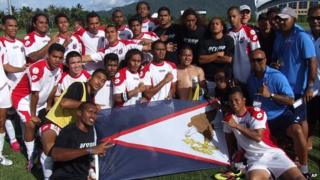 AP
The worst international footy team in the world have finally won a game.
American Samoa won their first match after 30 straight defeats over 17 years.
The team managed a 2-1 victory over Tonga and celebrated as if they had won a major championship.
Back in 2001, American Samoa lost 31-0 to Australia - the heaviest defeat in international football history!
They started playing in 1994 and since then have let in 229 goals and only scored 12.
They're in joint bottom place in the Fifa world rankings - alongside Andorra, Montserrat, Samoa and San Marino.
The coach of the team is hoping the win will inspire them to many more victories.
We think it's great and it goes to show that you should never give up.