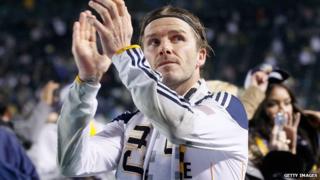 Getty Images
Top French club Paris St Germain have admitted they're in talks with former England captain David Beckham.
The 36 year-old won the MLS Cup with LA Galaxy earlier this week, but his deal with the American side expires in December.
When last speaking to the BBC, Beckham said he couldn't see himself playing for an English club.
"I've got options, which is amazing at my age," he added. "A couple of big European clubs are after me.
"I have a decision to make and I haven't made it yet."