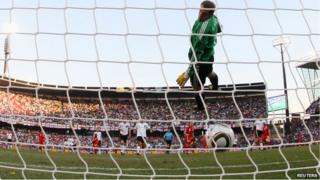 Reuters
The Football Association says goal line technology could be used in the Premier League as early as next season.
There's been a long campaign to use it to clear up disagreements on the pitch.
Famously, in the 2010 World Cup, England's Frank Lampard was denied a goal by the referee even though TV viewers could see the ball cross the line.
For many years footballing authorities have been against the idea, saying that referees should make the decisions.
But now The FA say they could push it through in time for the start of the 2012 season.
They say the systems must be able to detect whether a ball has crossed the line within one second of it happening, so the game is not slowed down.
Technology a bit like this is already used in tennis and cricket, and there are now nine different systems being examined by Fifa, the organisation in charge of world football.
They hope to make their decision in July 2012.