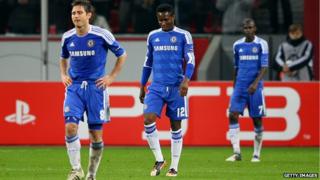 Getty Images
Chelsea are facing exit from the Champions League after a terrible result for them in Germany.
An injury-time goal gave Bayer Leverkusen a 2-1 win over Chelsea, leaving the blues struggling to reach the last 16 of the Champions League.
Chelsea must now win their match against Valencia in early December, or draw 0-0, in order to go further in the Champions League. But the Spanish side are looking very strong after putting seven goals past Genk on Wednesday.
Meanwhile Arsenal striker Robin Van Persie scored both Arsenal's goals in their 2-1 win over Borussia Dortmund.
Arsenal manager Arsene Wenger praised captain Robin van Persie. Wenger said "goals just come naturally" for him.
"He's always in the right place at the right moment", said Wenger.
It's the 12th season in a row that Arsenal have made it to the knockout stages of the Champions League.