Newsround was presented with the Special Award at the 2011 Children's Baftas, at a glitzy ceremony in London on Sunday night.
The award is to celebrate everything the show has done on children's TV and to mark our 40th anniversary.
Newsround (or John Craven's Newsround as it was first known) started on 4 April 1972, and back then it was only on twice a week.
Now there are 50 bulletins a week across CBBC, BBC One and BBC Two.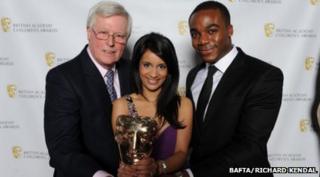 Other
Ore picked up the award alongside the first presenter John Craven.
John said: "I'm terribly proud of Newsround, always have been."
Newsround's editor, Owenna Griffiths, says: "It's incredibly important that kids understand the world around them, and the team here at Newsround tries every day to help them do so.
"This is a fantastic award for Newsround."
CBBC did really well elsewhere too, with five awards for Horrible Histories, Just William, Trapped, Deadly 60 and presenter Steve Backshall.
And Harry Potter and the Deathly Hallows: Part 2 picked up two awards, for best film and the audience favourite.