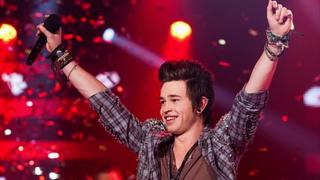 Other
A 16-year-old from Britain has won the Australian version of The X Factor.
Reece Mastin moved to Australia from Scunthorpe, Lincolnshire six years ago.
His relatives back home hosted a party during the final, but they could only watch it through a friend in Australia's webcam.
When the result was announced they all jumped around, shouted and celebrated.
Reece's uncle Sam said: "He's won! It's amazing, absolutely amazing."
During the contest Reece performed with Kylie Minogue and his first single has already topped the iTunes chart in Australia.
Reece told the BBC: "I'm 17 tomorrow and it's not a bad birthday present."
His album will be released in early December.