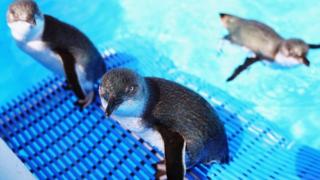 Oil spill penguins released
The first group of penguins affected by an oil spill off the coast of New Zealand have been released back into the wild.
In October the penguins were rescued and cleaned after a stranded ship started leaking oil into the ocean.
The 49 penguins are the first of 350 birds to be released.
The spill left an oil slick three miles long which reached the shore and harmed lots of wildlife.
The released penguins have been microchipped so scientists can monitor their progress over the next year.