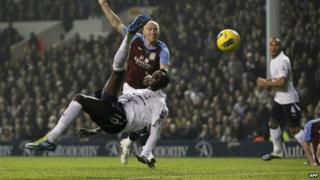 AFP
Emmanuel Adebayor scored both Spurs goals in their 2-0 win against Aston Villa.
The first was a spectacular overhead kick after 14 minutes. The second was a tap-in from a dangerous Gareth Bale cross just before half-time.
He should have got his hat-trick after the break, when he was one-on-one with the Villa goalkeeper, but he put his shot wide.
The win puts Tottenham up to third in the Premier League table.
It was a great night for manager Harry Redknapp who was back watching his side after having a heart operation.