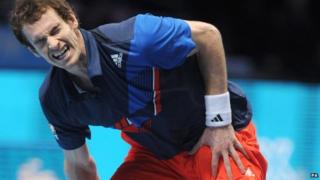 PA
Andy Murray may have to pull out of the ATP World Tour Finals in London after getting an injury in his first match.
He'd picked up the injury in training and made it worse as he lost in straight sets to Spain's David Ferrer.
Andy went into the match firm favourite to win, as he's been playing some brilliant tennis this year.
But this time he was way off his game and lost 6-4 7-5. He'll decide on Tuesday whether or not he'll carry on playing in the tournament.
The Scot really struggled with his serve in the first set and got more and more frustrated and angry with himself as he made mistakes on points he should have won.
If he doesn't pull out, he'll play Tomas Berdych on Wednesday night.