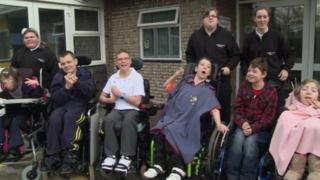 Leah visits a school hit by building cuts
Children at a school in Blackpool are still struggling to learn because of government spending cuts.
The pupils at High furlong School have physical disabilities and there are loads of things wrong with their school building, making simple things like getting around really difficult.
They were promised a new school, but because of the country's money problems they've now been told that's not going to happen.
The government says they haven't stopped building new schools or repairing others, but they need to make sure the money available goes to those schools that need it most.
In 2010 Newsround went to see the problems, and a year on we went back to see if anything's changed.