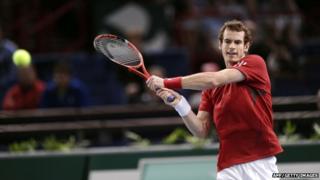 AFP
Andy Murray needs a much more positive attitude to win a Grand Slam, according to tennis legend Boris Becker.
The German former world number one said: "In the past, I felt he was more focused on trying not to lose than going out to win. He was too negative."
Boris, who won six Grand Slams, thinks it's not a question of Andy's technique or game: "Once you're in a Grand Slam final, you're playing to win."
Andy has lost three Grand Slam finals, including this year's Australian Open.
There are four Grand Slam tournaments, each played once a year, and these are seen as the most important and difficult ones to win.
But there's good news for Andy - Boris reckons he could win one next year if he thinks more positively, saying: "The players who beat him had a more positive and aggressive attitude once they were in the final. If he does that, I think he will win a Grand Slam in 2012.
"He's very, very close and that's the only missing ingredient."
The 24-year-old British number one is getting ready to play in the ATP World Tour Finals at the O2 Arena, which start on Sunday.
The tournament in London sees the best eight players in the world take on each other.
Andy takes on David Ferrer from Spain on Monday.