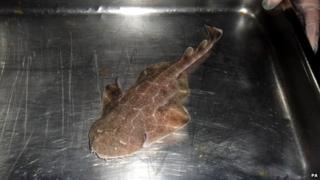 PA
A shark from a critically endangered species has been born in Scotland.
It's the first time this has happened in the UK.
The rare angel shark pup was born prematurely - which means earlier than expected - so the staff at the centre are hoping it survives.
It must be kept under very close watch while it's still very young.
Angel sharks were declared extinct in the North Sea back in 2006.
This led to them being officially described as a critically endangered species.
Tina Aydon, a diver at Deep Sea World in Fife, said it was the first time the rare fish had ever been bred successfully in the UK.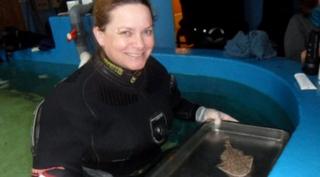 PA
Angel sharks grow slowly but can reach up to 2m (6ft) in length.
The aquarium staff are now expecting more pups to be born from the mother angel shark.