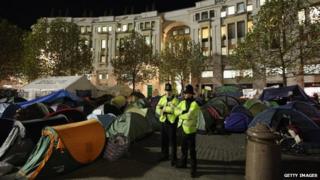 Getty Images
Protestors camped outside St Paul's Cathedral are refusing to budge, despite being told they had to go on Thursday.
City of London officials had ordered demonstrators to clear the "public highway" by 6pm.
But hundreds of them have stayed put, marking the deadline with a "silent scream" by raising their hands for one minute.
Those who don't leave could now be taken to court.
Meanwhile, on Thursday night, protestors from the same group claimed they'd taken over an empty bank office in east London belonging to the big Swiss bank, UBS.
The Occupy London protest says it's highlighting the gap between rich and poor people in the world, and what they see is the greed of big banks and businesses.