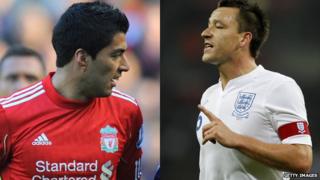 Getty Images
Liverpool Striker Luiz Suarez has been charged with making racist comments on the pitch to Manchester United defender Patrice Evra.
He will plead not guilty to the charges.
Liverpool Football Club have said they will support Suarez.
Meanwhile Chelsea defender John Terry is also awaiting results of an investigation into claims he racially abused QPR player Anton Ferdinand.
Events like these have led to the president of FIFA, Sepp Blatter, denying there is a problem with racism in football and refusing to resign.
It has caused top players like David Beckham and Rio Ferdinand to react with anger.
They're not saying that racism is a massive problem, but they feel that Sepp Blatter is out of touch with current views about it.