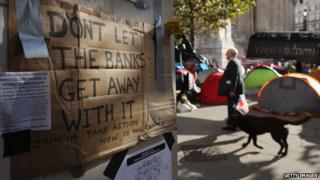 Getty Images
Protesters camping outside London's St Paul's Cathedral have been given letters telling them to leave by 6pm on Thursday.
Bosses at The City of London Corporation are in charge of some the land the protesters are camped on.
They've started legal action which means it will be illegal for the camp to continue on 'public land' after 6pm.
The authorities and protesters had been involved in talks to allow the camp to stay until the New Year.
But these talks have now broken down.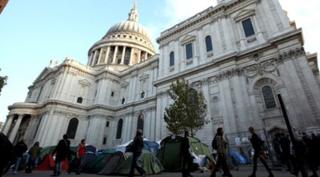 Getty Images
The letters with the order to leave were printed on posters and attached to tents, but many of the posters have been ripped up.
The protesters say they're staying put and want to carry on their campaign.
They're unhappy with the way big businesses and governments are using and spending money.