David Beckham has reacted angrily to comments from the president of Fifa, Sepp Blatter, about racism.
Blatter was filmed saying any racist incidents between players on the field could be sorted out "with a handshake".
He's since apologised for his comments - but he says he won't resign, even though lots of people think he should.
But Beckham said: "I think the comments were appalling," and some things ''can't just be sorted out with just a handshake''.
Blackburn striker Jason Roberts said he was "outraged".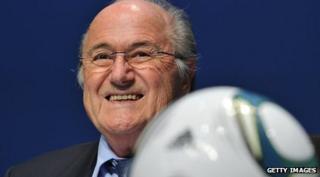 Getty Images
Former player Robbie Savage said: "...that's a shocking statement from the leader of world football."
The man in charge of the Professional Football Association Gordon Taylor says Blatter should let someone else take over.
Mr Taylor said Mr Blatter is "just not getting it".
England defender Rio Ferdinand described the comments as astonishing.
Sepp Blatter says he's been misunderstood and that he's committed to fighting racism, but he told the BBC he will not resign, saying: "Why should I?"