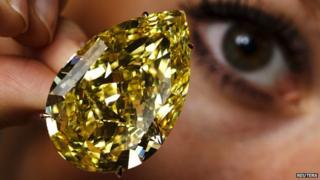 Reuters
A bright yellow diamond has been sold at an auction in Switzerland - to someone extremely rich!
It weights over 110 carats - about 100 times heavier than most diamonds you see in rings and necklaces.
Called a yellow sundrop because of its golden colour, the gem is one of the biggest of its kind in the world.
It's about the size of a person's thumb, and sold for over £7 million to an anonymous buyer.
Strong colours in a diamond like this are extremely rare.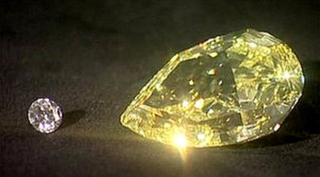 Earlier this year it was loaned to the Natural History Museum in London.
Alan Hart, the Natural History Museum's minerals curator, said: "I've never seen a stone such as this.
"A one carat diamond is what most people are familiar with, and are really pleased to own. You can see how exceptional this diamond is."