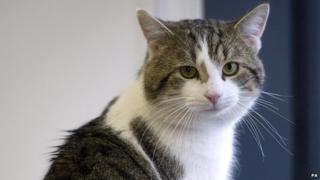 PA
It looks like Larry the Downing Street cat is here to stay, despite doubts over his mouse-catching skills.
Larry was brought in by Number 10 in February to combat its rodent problem, but it doesn't seem like he's doing a very good job.
A mouse was spotted during a recent dinner at the Prime Minister's home.
But when asked if Larry should resign, PM David Cameron's spokeperson said: "Larry brings a lot of pleasure to a lot of people."
Back in June, the Prime Minister revealed that Larry had caught three mice since he moved in.
Larry is a tabby rescue cat from Battersea Dogs and Cats Home in London.
He was described by them as having a "strong predatory drive", helped by his time on the streets as a stray.