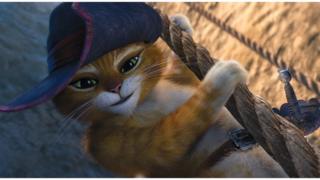 Other
Ever wondered how Puss in Boots got his name? Well here's the story of Puss before he met Shrek and Donkey in the classic DreamWorks adventure.
When's it out?
Friday 9 December.
The plot
As you would expect from the makers of Shrek, it's a mixture of traditional fairytales and nursery rhymes all rolled into one.
Puss and his childhood friend Humpty Dumpty set out with one dream: to find the magic beans of the Jack and the Beanstalk legend. But the villainous Jack and Jill are already a few steps ahead and have the magic beans locked safe in a cage guarded by wild boar!
It's up to Puss to steal the beans with the help of his new feline friend Kitty Softpaws - but, as ever with these adventures, things don't quite go according to plan...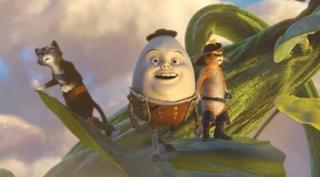 Other
Best bits
The 3D effects on this film really enhanced it and helped transport you into the fairytale world of Puss in Boots!
There's some really great music and dance scenes to get your toes tapping. As Puss gets ready to draw his sword against a mysterious masked rival he realises that he has actually stumbled upon a cat dance hall. Instead of a fight, Puss gets involved in a dance-off where the entire audience (of cats, of course) all join in to play the upbeat Latino music.
We also really enjoyed the opening section where Puss walks into a bar with all the swagger in the world but just looks really tiny in comparison to the humans, and can't even reach the bar without standing on a stool!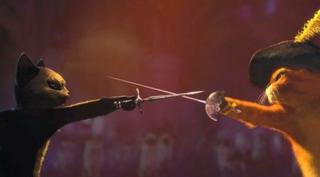 Other
Worst bits
Although the plot was clever by involving all the different nursery rhyme characters, we thought there could've been a few more jokes. The middle part of the story dragged a bit and the movie in general just wasn't as punchy as some other DreamWorks animations.
Hit or miss?
This film is pretty good fun and the jokes are great but it needs more of them!
Newsround rating: 3 out of 5