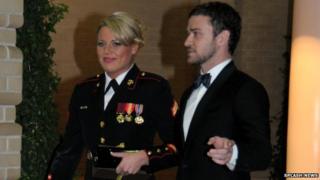 Other
An American marine scored a date with US superstar Justin Timberlake - after posting a video on YouTube!
Corporal Kelsey De Santis invited Justin to her marines' ball via the website in July - and he agreed.
Justin, a big supporter of the Armed Forces, called Saturday's event one of the "most moving evenings" he'd ever had.
He described how the pair chatted about her mixed martial arts training over dinner in the US state of Virginia.
It comes after Justin's actress friend Mila Kunis was asked out in the same way by another marine. She said yes too!