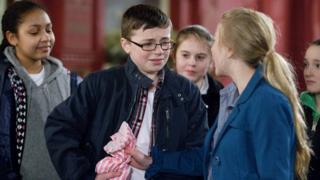 A quarter of young people have been verbally bullied (called names) in the past year, a survey has found out.
The charity Anti-Bullying Alliance spoke to nearly 1,000 11- to 16-year-olds about how bullying affects them.
This week is Anti-Bullying Week.
Events are taking place around the UK to try to highlight the problem of bullying using words and calling names.
The theme for the week is "Stop and think - words can hurt".
People are worried that bullying with words might be seen as less serious as other kinds, like when bullies hit you.
Campaigners say that bullying with words can be just as hurtful - because of how it makes you feel.
UK schools joining in
Hundreds of schools in Northern Ireland are looking at the impact of cyberbullying this week.
In Wales, a new guide has been brought out called Respecting Others, with advice on how to avoid cyberbullying.
Lincolnshire schools are taking part in a survey to find out how many people are affected by bullying.
They'll be encouraging children to talk together about the subject.
In Brighton in Sussex, the charity Children In Need has helped to set up a project to tackle bullying.
Children attend workshops and learn more about it.
To find out more about how to deal with bullying, take a look at our guides on the left hand side of this page.