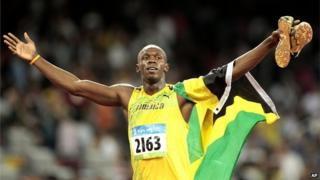 AP
Usain Bolt wants to compete in four separate events at the 2012 Olympics to match a record set over 25 years ago.
Bolt, from Jamaica, says he will run the 4x400m relay for the first time, as well as defending his Olympic titles in the 100m, 200m and 4x100m.
But former Olympic gold medallist Michael Johnson says Bolt won't be able to get all four golds.
Johnson says that the training needed to do the 4x400m would be a "distraction" for Bolt.
Famous athlete Carl Lewis set the record of four gold medals in track and field at the Los Angeles Olympics in 1984. Bolt has made it clear he wants to match that record.
This week Usain Bolt was named male Athlete of the Year by the IAAF, the organisation in charge of athletics around the world.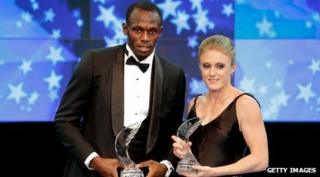 Getty Images
Each year the award is given to one male and one female athlete. Bolt shares the award with Australian sprint hurdler Sally Pearson.
Bolt said he wanted to help Jamaica win the Olympic relay title for the first time since the 1952 Helsinki Olympics.
"If I can help to get them a gold medal, I will want to go on that team," he said.