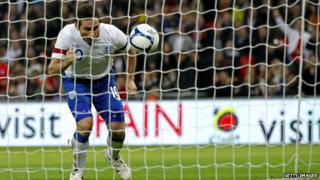 Getty Images
England's footballers celebrated after a 1-0 victory over Spain in a friendly at Wembley on Saturday.
New captain, Frank Lampard headed the winning goal.
Wales also beat Norway in a convincing 4-1 victory and Scotland beat Cyprus 2-1.
England are now preparing for their game against Sweden on Tuesday.
Phil Jagielka has been ruled out of that game with a toe injury.
He has been released from the squad even though he showed impressive form in Saturday's friendly.
Jack Rodwell, Daniel Sturridge and Kyle Walker are all likely to get England starts on Tuesday.
Chelsea forward Sturridge, who will earn his first England cap, will partner Fulham's Bobby Zamora in attack.