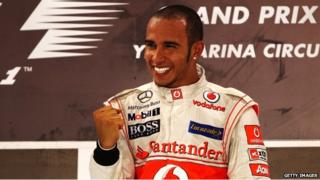 Getty Images
Lewis Hamilton won the Abu Dhabi Grand Prix with a sensational victory.
The McLaren man took the lead after Sebastian Vettel retired from the race.
Vettel dropped out on the opening lap because of a puncture going through the second corner.
Ferrari's Fernando Alonso pushed hard and tried to take the lead at the final pit stop but Hamilton was too strong.
"I feel fantastic," Lewis said. "It was one of my best races."